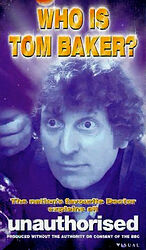 Edition:
UK (VHS)
Released:
June 1997

Publisher:
Visual Corporation Limited
Format:
1 x VHS PAL
Owned:
Buy:
Note: Was planned to be released on DVD in 2002 but the release was cancelled at the last minute.
Cover blurb:
This is a fascinating documentary about Tom Baker. It's unauthorised by the BBC.
The Doctor is everyone's favourite Time Lord. And Tom Baker is everyone's favourite Doctor.
With his manic grin, his wild hair and his mile long scarf, Baker became the definitive Doctor. His wicked sence of humour and naturally gentle personality added whole new dimensions to the character.
This video includes a highly revealing interview with Baker that's never been seen on television or video. Margarita in hand, he soaks up the California sunshine and talks openly about his time as the Doctor.
And with interviews with DW fans and experts, the video provides fascinating and original insights into both Tom Baker the actor and Tom Baker the Doctor.