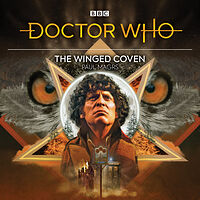 Description: Original audio reading featuring the Fourth Doctor.
Cover blurb:
Susan Jameson reads a brand new original adventure for the Fourth Doctor, Mrs Wibbsey and Mike Yates
When the Doctor returns to Nest Cottage, in the village of Hexford, England, he discovers strange things afoot in the local woods. Together with the redoubtable Mrs Wibbsey he discovers the local postmistress in an almost desiccated state, and witnesses sinister behaviour at the local mini-mart.
The old team investigate a new shop that has opened in the village, run by the glamorously beguiling Camilla Cookson. Soon they realise that a secret society has formed in Hexford under their very noses. But what role has Mrs Wibbsey herself unwittingly played in all of this? It may be time for a few confessions to be heard.
Recruiting Mike Yates, Tish Madoc and Deirdre Whatsit to the cause, the Doctor and Mrs Wibbsey set out to penetrate the winged coven — but what they discover at its heart is the greatest horror of all.
Read by Susan Jameson, this brand new adventure by Paul Magrs is set after the events of The Nest Cottage Chronicles and The Thing From The Sea.