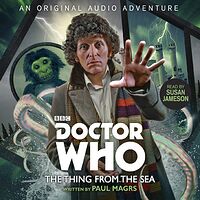 Cover blurb:
Susan Jameson reads an exciting original story featuring the Fourth Doctor and his companion Mrs Wibbsey
The Doctor returns to Nest Cottage, the scene of many past adventures, and finds his housekeeper Mrs Wibbsey plagued by strange dreams. He promptly whisks her away in the TARDIS, to 18th Century coastal Italy.
Within hours of the travellers' arrival, the local fishermen haul in an extraordinary catch: a gigantic serpent. The Doctor identifies it as alien, but to the ailing locals this fabled sea creature has the capacity to heal them. The serpent and its kind are the stuff of legends in these parts.
Meanwhile Mrs Wibbsey has come under the influence of the sinister Count Otto, and the Doctor finds himself snared by the wicked power of a seemingly immortal magician, the infamous Cagliostro!
Set after the events of The Nest Cottage Chronicles — Hornets' Nest, Demon Quest and Serpent Crest, the story is read by Mrs Wibbsey herself, Susan Jameson.