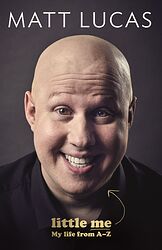 Edition:
UK (hardback)
Released:
October 2017

Publisher:
Canongate
ISBN:
978-1-78689-086-3
Format:
hardback
Owned:
Buy:

| | | |
| --- | --- | --- |
| | | (Unable to fetch price) |
Cover blurb:
'To be truly unique in this world is almost impossible to achieve; this book is about someone who achieved it. Raw, honest, funny and moving'
James Corden
'Funny, surprising, sad, authentic, inspirational, honest, stupid'
Bob Mortimer
'Matt is not only hilarious and kind, he's probably the most generous person I know. All of which is wonderfully evident in this book'
Rebel Wilson
'A book filled with love. It's absolutely gorgeous'
Russell T Davies
'Brutally honest and brilliantly funny, this book is as brave and warm as the man who wrote it'
Graham Norton
Inner cover flaps read as follows:
Hello there. Welcome to the dust jacket of my autobiography. I see they've made my teeth whiter in the photo, so that's good.
Throughout this book I talk about my life and work, including Little Britain, Come Fly With Me, Bridesmaids, Les Misérables, Alice In Wonderland and, of course, Shooting Stars.
The thing is, this is a bit different to most memoirs you may have read, because it comes in the form of an A-Z.
For instance, B is for Baldy! — which is what people used to shout at me in the playground (not much fun), G is for Gay (because I'm an actual real life gay) and T is for the TARDIS (because I'm a companion in Doctor Who now). You get the sort of thing.
Anyway I hope you buy it at least twice. Thank you.

MATT LUCAS is an award-winning comedian, actor and writer.
He started his comedy career in the early nineties, working with Vic Reeves and Bob Mortimer on The Smell of Reeves and Mortimer and Shooting Stars, where he played giant baby George Dawes, but discovered major success with co-star David Walliams in Little Britain and Come Fly With Me, for which they won three BAFTAs, three NTAs and two International Emmy Awards.
Matt received much praise for his work onstage in Les Misérables and has since gone on to feature in many successful films and TV shows including: Alice in Wonderland, Bridesmaids, The Wind in the Willows, A Midsummer Night's Dream and now Doctor Who.