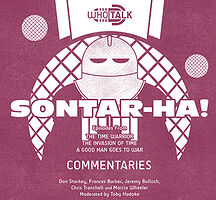 Note: A bonus edition is also available exclusively from the Fantom website when you purchase this and Warriors of the Deep together — it features a signed cover and an additional CD with Dan Starkey providing commentary on The Sontaran Experiment.
Cover blurb:
Since making their debut in the 1973 serial The Time Warrior, the Sontarans have been one of the most popular recurring monsters in Doctor Who. Featuring in stories from both the classic and new series, the potato headed clones have continued to plague The Doctor with their warlike ways, as well as providing the show with the iconic series regular, Strax.
This collection contains commentaries for episodes from The Time Warrior and The Invasion of Time, as well as the Eleventh Doctor story A Good Man Goes To War.
Moderated by actor, comedian and cult television enthusiast Toby Hadoke, this release features Dan Starkey (Strax), Frances Barber (Madame Kovarian), Jeremy Bulloch (Hal), Chris Tranchell (Andred) and Marcia Wheeler (Production Assistant).

These CDs can be enjoyed on their own or played in conjunction with the official BBC DVD release.
These commentaries contain no BBC copyrighted elements and do not feature audio from the episodes themselves.