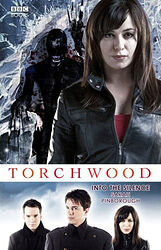 Edition:
UK (hardback)
Released:
May 2009

Publisher:
BBC Books
ISBN:
978-1-84607-753-1
Format:
hardback
Owned:
Buy:
Cover blurb:
The body in the church hall is very definitely dead. It has been sliced open with surgical precision, its organs exposed, and its vocal cords are gone. It is as if they were never there or they've been dissolved...
With the Welsh Amateur Operatic Contest getting under way, music is filling the churches and concert halls of Cardiff. The competition has attracted the finest Welsh talent to the city, but it has also drawn something else — there are stories of a metallic creature hiding in the shadows. Torchwood are on its tail, but it's moving too fast for them to track it down.
This new threat requires a new tactic — so Ianto Jones is joining a male voice choir...
Featuring Captain Jack Harkness as played by John Barrowman, with Gwen Cooper and Ianto Jones as played by Eve Myles and Gareth David-Lloyd, in the hit series created by Russell T Davies for BBC Television.