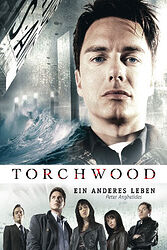 Edition:
Germany (paperback)
Title:
Torchwood: Ein anderes Leben
Released:
February 2011

Publisher:
Cross Cult
ISBN:
978-3-941248-58-8
Format:
paperback
Owned:
Buy:

| | | |
| --- | --- | --- |
| | | (Unable to fetch price) |
Note: Contains a bonus interview with the author. Titled Torchwood: Ein anderes Leben which means the same as the English title. Followed by German translations of Border Princes and Slow Decay.
Cover blurb:
DIE ROMANSERIE ZUM TV-ERFOLG!
Von einer unterirdischen Basis aus, die auf einem Riss im Raum-Zeit-Kontinuum gebaut ist, reagiert das Torchwood-Team auf jegliche außerirdische Bedrohung. Torchwood agiert unabhängig von der Regierung und Polizei — nach eigenen Regeln. Geführt von dem rätselhaften Captain Jack Harkness, befasst sich das Team mit dem Unbekannten und bekämpft das Unmögliche.
Mit Captain Jack Harkness, in der TV-Serie verkorpert von John Barrowman, und mit Gwen Cooper, Owen Harper, Toshika Sato und Ianto Jones, dongestelt von Eve Myles, Burn Gorman, Naoki Mori und Gareth David-Lloyd. Nach einer Idee von Russell T. Davies, der die Serie für BBC Television entwickelt hat.
Dicke, dunkle Wolken ziehen am Himmel über Cardiff auf. Sintflutartiger Regen lässt die Kanalisation der Metropole kollabieren. Obdachlose werden in der walisischen Hauptstadt umgebracht und ihre verstümmelten Körper auf den durchweichten Straßen in der Nähe der Blaidd-Drwg-Nuklearanlage abgelegt.
Als Torchwood den Mörder in die Enge treibt, lässt er sich in aller Seelenruhe aus dem achten Stock fallen. Aber die Morde hören nicht auf...