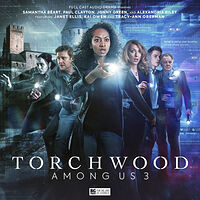 Cover blurb:
"I know where I am. And I know what I will do next."
Torchwood are on the run. As the world puts itself back together, Torchwood are there to pick up the pieces. And they find something nasty hiding in them...
A forgotten social network is out for revenge. Someone's killing influencers. Torchwood get into crypto. The world ends tomorrow night at 6pm.
How I Conquered the World by Tim Foley, Ash Darby and James Goss
Doomscroll by Ash Darby
Heistland by Tim Foley
The Apocalypse Starts at 6 PM by James Goss