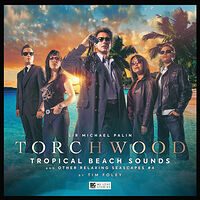 Note: Download version was released on April 8th, however the release of the physical CD edition was delayed for two months due to the COVID-19 crisis.
Cover blurb:
You are listening to a self-help tape. You are hearing a soothing voice. You have always wanted to do something with your life, haven't you? Oh, how you've ached to be a better person.
Well now. This is your chance. Go on. Sit back. Close your eyes. Relax. You're going to learn all about Captain Jack Harkness. You're going to learn all about Torchwood.
You're going to change the world.