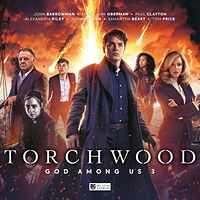 Description: Third and last part of the God Among Us mini-series of audio dramas.
Cover blurb:
In times of disaster people turn to God. But what if they no longer believe in themselves?
Cardiff is recovering from a catastrophe. Torchwood find themselves up against the Disaster Recovery Committee — instead of putting the city back on its feet, it seems to be preparing for something worse. There's a conspiracy to be exposed, a mythical monster becomes real, fights are breaking out over drinking water, and Jack Harkness is getting ready for the end of the world.
A Mother's Son by Alexandria Riley
ScrapeJane by Robin Bell
Day Zero by Tim Foley
Thoughts and Prayers by James Goss