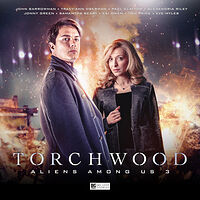 Note: Last of a three-part series continuing the story of Torchwood after the most recent TV series Miracle Day.
Cover blurb:
Big Finish picks up the events after Miracle Day with Torchwood: Aliens Among Us...
Captain Jack and Gwen Cooper have restarted Torchwood. But it's in a very different Cardiff. Something terrible's happened to the city. With every day getting darker, will a new arrival prove to be the ally Torchwood needs?