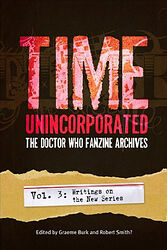 Note: Sequel to Volume 1 and Volume 2.
Cover blurb:
From the earliest days of fandom, through "The Wilderness Years" of the 90s and up through the resurgence of the new series in the present day, fanzines have yielded some of the most delightful, insightful and unique writings about Doctor Who. Well and truly made by fans for fans, many of these publications were circulated exclusively at conventions and pub get-togethers, at times reaching a limited readership in the hundreds or mere dozens.
Now, through the multi-volume Time, Unincorporated series, selected treasures from this vast fanzine resource are collected and made available for the first time to a wider audience.
The third and final volume of this series contains nearly 65 essays that examine the new Doctor Who up to and including the 2010 series starring Matt Smith. The essays stem from a wide array of fanzines such as Enlightenment, Tides of Time, Shockeye's Kitchen, Movement and more.
As a bonus, nearly 20 of the essays were written exclusively for this volume by the likes of Doctor Who script editor Andrew Cartmel; novelists Jonathan Blum, Kate Orman, Lloyd Rose and Steve Lyons; Tammy Garrison (Torchwood Babiez); and Lynne M Thomas (Chicks Dig Time Lords). With a foreword by new-series writer Robert Shearman (Running Through Corridors, Wanting to Believe).