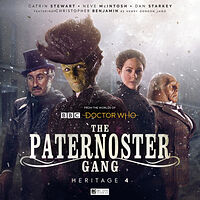 Cover blurb:
Victorian London harbours many secrets: alien visitors, strange phenomena and unearthly powers. But a trio of investigators stands ready to delve into such mysteries — the Great Detective, Madame Vastra; her resourceful spouse, Jenny Flint; and their loyal valet, Strax.
If an impossible puzzle needs solving, or a grave injustice needs righting, help can be found on Paternoster Row.
But even heroes can never escape their past...

MERRY CHRISTMAS, MR JAGO BY PAUL MORRIS
THE GHOST WRITERS BY ROY GILL
RULERS OF EARTH BY MATT FITTON