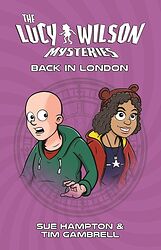 Description: Slim paperback containing two Lucy Wilson short stories, originally given free to purchasers of the limited hardback edition of Downtime: Child of the New World, but subsequently made available for separate purchase.
Cover blurb:
From the world of Doctor Who are two action-packed Lucy Wilson adventures:
In The Llanfairfach Rebellion, by Sue Hampton, Lucy and Hobo decide to join the climate change protests on Waterloo Bridge. But something appears to be affecting both the peaceful protesters and the police. Can Hobo keep a clear head and save the day?
Lucy and Hobo are chasing a stringy alien monster through time in Tim Gambrell's The Midwife and the Alien. They finish up in South London, near where Lucy grew up. She wants to see her friends. But when they find Lucy's old family house, it is apparent that they have gone further back in time than they originally thought!