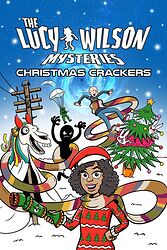 Description: Christmas-themed short story collection featuring Lucy Wilson, the granddaughter of Brigadier Lethbridge-Stewart.
Cover blurb:
FROM THE WORLD OF DOCTOR WHO
Adventure never stops for Lucy Wilson and her best friend Hobo, not even during the holiday season.
Together they investigate toy soldiers that come to life, deadly Christmas crackers, crimes of fashion, mischievous imps, and a rather familiar old lady from the future.
A collection of five short stories set between Christmas, the New Year and beyond. This book is Christmas Crackers!
Featuring stories by Cherry Cobb, Tim Gambrell, Terry Cooper, Keren Williams & Chris Lynch.
The Lucy Wilson Mysteries is a Lethbridge-Stewart spin-off adventure inspired by characters created for Doctor Who by Mervyn Haisman and Henry Lincoln.