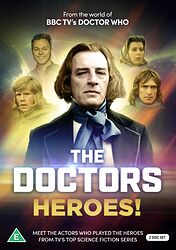 Note: Edited compilation of previously-released Myth Makers interviews, namely Trevor Martin, Damaris Hayman, Stewart Bevan, Andrew Hayden-Smith and David Brierley, plus Jeremy Bulloch, whose Myth Makers release was mainly focussed on his Star Wars career (as Boba Fett), hence is not listed on this site.
Cover blurb:
This is the definitive set of interviews with the actors who brought the HEROES of DOCTOR WHO to life!
These six documentaries are the best in-depth interviews with TREVOR MARTIN (the Doctor in the stage play Seven Keys to Doomsday), DAMARIS HAYMAN (Olive Hawthorne in The Daemons), STEWART BEVAN (Cliff Jones in The Green Death), JEREMY BULLOCH (Hal the Archer in The Time Warrior), ANDREW HAYDEN-SMITH (Jake Simmonds in Rise of the Cybermen) and DAVID BRIERLEY (Voice of K9) ever undertaken!
Presented by Jo Grant herself, KATY MANNING, plus MARTIN PARSONS and the voice of the Daleks NICHOLAS BRIGGS.
For all DOCTOR Who fans, this 2 DISC special collector's edition is 5 hours of pure nostalgia, which will give you a whole new insight into the making of your favourite science fiction series!
SPECIAL FEATURE: Introduction by NICHOLAS BRIGGS & Producer KEITH BARNFATHER