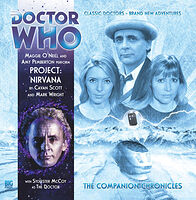 Note: Slightly different cover art was used for pre-launch promotion, to avoid spoiling the return of previous character Sally Morgan (from House of Blue Fire).
Cover blurb:
The place is Eastern Europe. The year is 2015.
The TARDIS lands in mid-air, and Captain Lysandra Aristedes is dropped into a daring mission in her own past. There are enemies and creatures out there in the night, and the Doctor is waiting at the rendezvous point.
Because this is all part of his bigger picture. And Aristedes is going to learn something about herself...