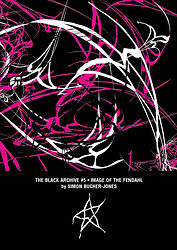 Note: A print-on-demand edition (linked via the Lulu logo above) was released in November 2016 to allow Australia/NZ readers to order the book with much cheaper postage costs. It is identical to the original version, except for having a glossy cover instead of the original's matt cover.
Cover blurb:
'12 million years ago... evolution went up a blind alley.'
Image of the Fendahl (1977) is a fusion of the Gothic Doctor Who story with the colder post-Gothic tradition of Nigel Kneale and HP Lovecraft. It builds on the success of Chris Boucher's earlier scripts to create a classic of the series, and still works as an adventure drama for a modern audience. It functions as a human drama, a scientific puzzle, a horror story, and a masterpiece of unease.
Simon Bucher-Jones has written or co-written five novels for Doctor Who and its spinoffs.
THE BLACK ARCHIVE:
Book-length looks at single Doctor Who stories from 1963 to the present day