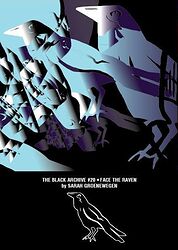 Note: A print-on-demand edition (linked via the Lulu logo above) was also released in June 2018 to allow Australia/NZ readers to order the book with much cheaper postage costs. It is identical to the original version, except for having a glossy cover instead of the original's matt cover.
Cover blurb:
'Let me be brave. Let me be brave...'
Scripted by an Australian living in the UK, Face the Raven (2015) uses Doctor Who's imagery, tropes and recurring characters to comment on immigration, asylum and the penal system, leading up to the execution of the Doctor's long-term companion Clara and his own incarnation. This Black Archive draws on London's history and presentation in fantasy, queer and feminist theory and the mythic symbolism of ravens to examine this haunting story.
Sarah Groenewegen BEM has written essays on Doctor Who, gaming, and being queer.
THE BLACK ARCHIVE:
Book-length looks at single Doctor Who stories from 1963 to the present day
"A grandly ambitious thing to attempt with something as exhaustively detailed as (Who). But they actually manage it. Treat your bookshelf."
—Doctor Who Magazine