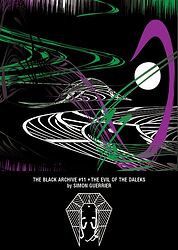 Cover blurb:
'Without knowing, you have shown the Daleks what their own strength is!'
Originally commissioned to kill off the Daleks forever, The Evil of the Daleks (1967) is an epic, eerie conclusion to Doctor Who's fourth series. It grapples with issues of authenticity, from the mystery of brand-new Victorian antiques in swinging London to questions of human — and Dalek — identity. Now new research and interviews shed fresh light on this now largely missing story, its characters and its mix of science and history.
Simon Guerrier is the author of numerous Doctor Who books, comics and audio plays.
THE BLACK ARCHIVE:
Book-length looks at single Doctor Who stories from 1963 to the present day
"A grandly ambitious thing to attempt with something as exhaustively detailed as (Who). But they actually manage it. Treat your bookshelf."
—Doctor Who Magazine