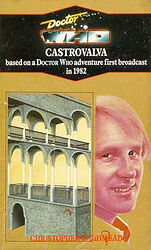 Edition:
UK (2nd paperback)
Released:
June 1991

Publisher:
Target
ISBN:
0-426-19326-1
Format:
paperback
Owned:
Buy:

| | | |
| --- | --- | --- |
| | | (Unable to fetch price) |
Note: Same ISBN as previous paperback edition.
Cover blurb:
The Master leaned back, permitting himself a thin chuckle that floated away into a whisper. 'Oh no, you can't escape. You're mine, Adric, mine — until we have completed our final task...'
The TARDIS, controlled by the Master, is rushing towards Event One and imminent destruction; Adric and his computational powers are being manipulated to the Master's own ends.
But the Doctor has been weakened by regeneration and the travellers attempt to travel to peaceful Castrovalva unaware of the web that has been spun by the renegade Time Lord...
Doctor Who — Castrovalva marks the beginning of Peter Davison's tenure of the role of the Doctor and was written by Christopher H. Bidmead, who was script editor of the series during its eighteenth season.
Doctor Who is currently being reshown on BSB television.