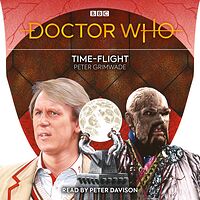 Note: Audio reading of Peter Grimwade's 1983 novelisation.
Cover blurb:
Peter Davison reads this exciting novelisation of a Fifth Doctor TV adventure featuring an old enemy
"This range of classic Target audiobooks continues to go from strength to strength..."
Doctor Who Magazine
The TARDIS arrives at Heathrow Airport at a moment of crisis: a Concorde aeroplane has inexplicably vanished while in flight.
The Doctor, Tegan and Nyssa join the crew of a second Concorde that sets out to simulate the fateful journey of the missing supersonic jet...but an old enemy in disguise is lurking at their destination.
Seeing is believing, they say - but the Doctor and his friends realise that it just isn't that simple...
Peter Davison - the Fifth Doctor himself - reads Peter Grimwade's own novelisation of his 1982 TV adventure.