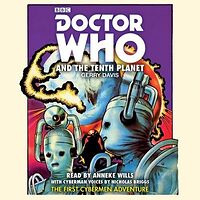 Note: Unabridged reading of Gerry Davis' 1976 novelisation. Not to be confused with the TV audio soundtrack of the same story, released in 2006.
Cover blurb:
Anneke Wills reads this exciting novelisation of the First Doctor's final TV adventure — and his original encounter with the Cybermen!
"This range of classic Target audiobooks continues to go from strength to strength..."
Doctor Who Magazine
The TARDIS brings the Doctor, Ben and Polly to a space tracking station in the Antarctic — and straight into trouble. A space mission is going badly wrong, and a new planet has appeared in the sky. Mondas, ancient fabled twin planet of Earth, has returned.
Soon the inhabitants of Mondas arrive at the Snowcap base. But although they used to be just like the humans of Earth, now they are very different. Devoid of emotions, their bodies replaced with plastic and steel, the Cybermen are here!
Humanity needs all the help it can get — but as the Cybermen take over, the Doctor is dying...
Anneke Wills, who played Polly in the BBC TV series, reads Gerry Davis's novelisation of his and Kit Pedler's 1966 TV serial, which describes the lead-up to the Doctor's first ever regeneration.