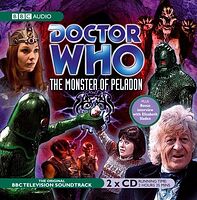 Description: Audio soundtrack of the 1974 Doctor Who TV story of the same name, with linking narration by Elisabeth Sladen. Not to be confused with the novel reading of the same story, released in 2020.
Cover blurb:
Jon Pertwee stars as the Doctor in this classic TV soundtrack with linking narration by Elisabeth Sladen
'You have blasphemed in the temple of Aggedor...prepare the pit!'
It is many years since the TARDIS last settled on the planet Peladon, and the Doctor is surprised to find a less than warm welcome when he takes Sarah Jane for a visit. The spectre of the royal beast, Aggedor, is once more being blamed for sudden deaths, fuelling great unrest among the planet's trisilicate miners.
The Doctor and Sarah meet an old friend, in the shape of Alpha Centauri, and are introduced to Queen Thalira, daughter of the old King Peladon. They soon discover that the dark forces at work are far more real than Aggedor's ghost. There is a plot afoot, and behind it lie some more familiar figures: the Ice Warriors!
With the Doctor's old foes now allied with a galactic power bloc, the odds seem stacked against Peladon and the Federation. As tension mounts and the death toll increases, only the courage and ingenuity of the Doctor, Sarah and their friends can save the day.
Elisabeth Sladen, who plays Sarah Jane in the story, provides linking narration, and in a short bonus feature, recalls the making of the original production.