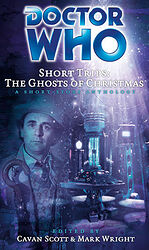 Cover blurb:
Christmas. A time for home. For family. For laughter...
Everybody has special memories of Christmas but for others it brings shadows of things that should not have been. Unearthly visitors who open their eyes to new worlds and new experiences. Pantomime coats, robot dogs and a big blue box parked beneath the Christmas tree.
Some think these fleeting guests are apparitions. Some think they are angels. Some think they are demons. But all know that Christmas will never be the same again.
The Doctor and his companions travel to Christmas Past, Christmas Present and those Christmases Yet to Come. They bring festive laughter and Yuletide joy, creeping dread and screaming horror, slipping in and out of time like the ghosts of Christmas...
Christmas. A time for terror. For fear. For ghosts...
Contents:
Faithful Friends: Part 1 by Cavan Scott & Mark Wright
But Once a Year by Colin Harvey
For the Man Who Has Everything by Dan Abnett
Tell Me You Love Me by Scott Matthewman
The Cutty Wren by Ann Kelly
Do You Dream in Colour by Gary Russell
The Nobility of Faith by Jonathan Clements
24 Crawford Street by Ian Farrington
The Sommerton Fetch by Peter Anghelides
Faithful Friends: Part 2 by Cavan Scott & Mark Wright
Dear Great Uncle Peter by Neil Corry
Do You Believe in the Krampus? by Xanna Eve Chown
They Fell by Scott Handcock
The Christmas Presence by Simon Barnard & Paul Morris
Snowman in Manhattan by John Binns
The Crackers by Richard Salter
Jigsaw by Michael Abberton
Dr Cadabra by Trevor Baxendale
Far Away in a Manger by Iain McLaughlin
All Snug in Their Beds by Scott Allan Woodard
Decorative Purposes by Eddie Robson
The Stars Our Contamination by Steven Savile
Keeping It Real by Joseph Lidster
Christmas Everyday by Mark Magrs
Faithful Friends: Part 3 by Cavan Scott & Mark Wright