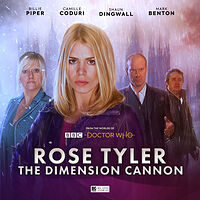 Cover blurb:
ROSE TYLER'S WORLD IS ENDING.
As she begins a desperate mission to find the one person who can make a difference, Rose discovers that it's not only her universe at stake. Across alternate dimensions, parallel timelines — where divergences may be tiny or cataclysmic — every Earth is under threat.
Time is running out, but Rose won't stop searching until she finds the Doctor...

THE ENDLESS NIGHT BY JONATHAN MORRIS
THE FLOOD BY LISA McMULLIN
GHOST MACHINES BY AK BENEDICT
THE LAST PARTY ON EARTH BY MATT FITTON