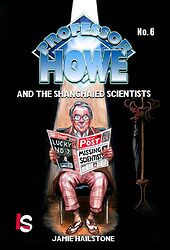 Cover blurb:
Something is amiss at Kettering Leisure Centre and we don't mean the instant coffee.
Hosting a conference of esteemed and not so esteemed scientists, one by one they begin to disappear. Only one man could solve this problem and, unfortunately for everyone involved, that person wasn't PROFESSOR HOWE.
Yet, with the aid of his perky assistant, Belle, can the Professor track down the kidnapped researchers and stop Barbie Cappuccino in her tracks? Will the infamous intergalactic space vixen succeed in her evil machinations to rid the world of eligible bachelors? And who will feel the bite of the Caramel Masterplan?
The new adventure, raising money for CHILDREN IN NEED