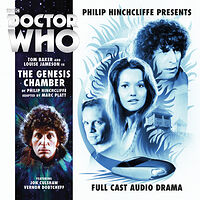 Description: Original Doctor Who audio drama featuring the Fourth Doctor and Leela, intended to "evoke the spirit and feel of the period when Philip Hinchcliffe was in charge of production".
Cover blurb:
AN EPIC SIX-PART STORY PLUS HOUR-LONG DOCUMENTARY
The TARDIS has landed on a human colony world. In the city, where the inhabitants rely on advanced technology to create their children, a marriage is due to take place. But not everyone supports it, and a crash might just prevent it for good.
In the commune outside live the savages, shunned and detested by the city folk. But they have recently been visited by a man, charismatic and handsome, who may yet be their saviour — or their doom.
Two different sides, ready for conflict. But neither realises that a third force threatens their very existence...