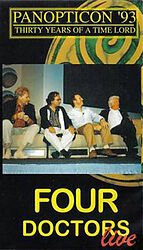 Cover blurb:
PANOPTICON '93 was the finest event yet from DOMNITEMPORAL SERVICES LIMITED, and also the largest Doctor Who convention ever held in the United Kingdom. It was staged with advice and encouragement from BBC Enterprises and Marvel Comics UK to celebrate the show's 30th anniversary.
We are proud to release a series of video tapes of highlights from the event.
One Doctor is usually entertainment enough on his own; two Doctors would be special; three unheard of... but FOUR DOCTORS?
Jon Pertwee, Peter Davison, Colin Baker and Sylvester McCoy together on one (fortunately rather large!) stage. Their panel — a unique spectacle — is presented here in full.
Don't miss the other volumes in this series of tapes, featuring all the surviving Doctors and most of their companions — a complete record of an event which will never be repeated.