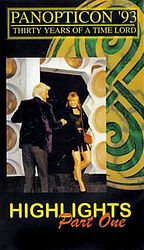 Cover blurb:
PANOPTICON '93 was the finest event yet from DOMNITEMPORAL SERVICES LIMITED, and also the largest Doctor Who convention ever held in the United Kingdom. It was staged with advice and encouragement from BBC Enterprises and Marvel Comics UK to celebrate the show's 30th anniversary.
We are proud to release a series of video tapes of highlights from the event.
Our first tape features the events on the Saturday. Carole Ann Ford and William Russell reminisce with veteran monster John Scott Martin about the Daleks, the Zarbi and other evil aliens. Mike Craze and Frazer Hines are joined by Anneke Wills, fortuitously visiting the UK from her home in Canada. Deborah Watling fights off the attentions of Frazer and Nicholas Courtney who goes on to meet Jon Pertwee and, flown in from Australia specially for the event, Katy Manning. Elisabeth Sladen discusses the recent Radio 5 story PARADISE OF DEATH with fellow actor Peter Miles and producer Phil Clarke, before joining Louise Jameson and John Leeson to discuu [sic] the show in the late 70's. The day reaches its climax with the first major public appearance by Tom Baker in over ten years.
Don't miss the other volumes in this series of tapes, featuring all the surviving Doctors and most of their companions — a complete record of an event which will never be repeated.