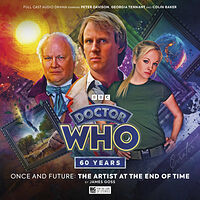 Note: Unusually for a Big Finish release, the artwork was completely changed shortly before release, for reasons unknown. View original cover
Cover blurb:
Suffering the effects of degeneration, the Doctor heads towards the end of the universe in search of answers. Instead, he finds his daughter — Jenny — and an Artist whose works appear to mark the end of every world they touch.
The Doctor stabilises into his Fifth form to join forces with Jenny and the Curator to solve the mystery of the Final Gallery and the art it has collected.