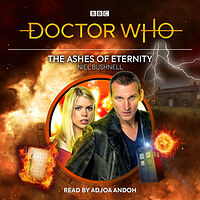 Description: Original Doctor Who audio reading featuring the Ninth Doctor and Rose.
Cover blurb:
Adjoa Andoh reads a dynamic new story featuring the Ninth Doctor and Rose, as played on TV by Christopher Eccleston and Billie Piper
When the Doctor diverts an asteroid from its collision course with Earth, the TARDIS is invaded by an ancient menace: a Solonite.
Racing to save her friend's life, Rose lands the TARDIS in Northumberland, Earth in 1986, and they find shelter in an isolated farmhouse. Teaming up with Peggy, a grieving artist, the travellers realise the terrible truth: the Solonite has accompanied them to Earth, and is now at large.
As the terrifying entity seeks to possess them, its fearful purpose becomes clear — and it involves the TARDIS...
Adjoa Andoh, who played Francine Jones in the BBC TV series, reads Niel Bushnell's electrifying original story, with accompanying sound design.