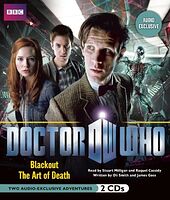 Note: US box set containing the previously-released audios Blackout and The Art of Death.
Cover blurb:
Two Original Doctor Who Adventures, Read by Stellar Cast Members of the Hit Series on BBC America!
BLACKOUT, written by Oli Smith; read by Stuart Milligan:
November 9th, 1965. New York City is plunged into darkness, a taxi driver has bad dreams, and an invisible spacecraft hovers ominously above the skyline. As an extra-terrestrial disease sweeps the populace, Amy and Rory must sabotage the city's water supply to slow the spread of the infection, and a dying Doctor holds another man's life in his hands. With the death toll rising, and his companions stalked through the streets by alien businessmen, the Doctor is forced to make a terrible decision. How far must he go to save his friends?
THE ART OF DEATH, written by James Goss; read by Raquel Cassidy:
"Don't be alarmed!" the Doctor cried through gritted teeth, "It's simply sucking the life out of me. Nothing to worry about..." When the Doctor falls through a crack in time he finds himself in the Horizon Gallery. But it's no ordinary art gallery, because this one has the best view of the most impossible wonder of the universe — the Paradox. Tour parties are eager to see this stunning, hypnotic portion of the sky that's beyond description, and it's Penelope's job to stop people staring at it for too long. For the Paradox's beauty drives people mad. The Doctor, Amy and Rory are about to discover that the Paradox also contains a giant and frightening creature with a taste for death...