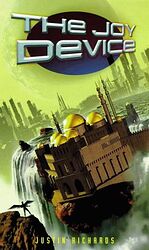 Cover blurb:
'Nothing happens, nobody comes, nobody goes... it's worse than Samuel Beckett.'
Benny has had enough. Enough of the angst and the heartache. Enough of Jason and the others. She needs a holiday, and so she's heading to the Eastern Rim, a part of the galaxy where there is still a frontier, and adventure to be had. She's packed her trowel. She's off.
Her friends are concerned. Drug barons, war lords, criminal cartels and outlaws have fled to the Rim from authority and order. There's a distinct risk of getting into trouble, not to mention life-threatening peril. It's not so much that Benny might come to harm; she might find she likes it out there. But Benny finds the Eastern Rim almost suspiciously ordinary: no violence, no action, no excitement. So when she is asked by a shady curio dealer to help him find Dorpfeld's Prism, it seems just another cursed relic to recover before retiring to the bar. In a place this dull, nothing dangerous can possibly happen. Can it?
Justin Richards seems to be making a habit of writing novels when he should be doing other things. But the other things are always less fun. So what the hell.