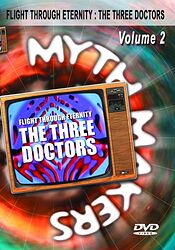 Note: Interviews with Doctor Who supporting actors, many of whom have never been interviewed before. The interviewees in this volume include David Spenser (The Abominable Snowmen), Sonny Caldinez (Evil of the Daleks, The Ice Warriors, The Seeds of Death, The Curse of Peladon, The Monster of Peladon), Shirley Cooklin (The Tomb of the Cybermen) and Prentis Hancock (Spearhead from Space, Planet of the Daleks, Planet of Evil, The Ribos Operation).
Cover blurb:
On Sunday 13th April 2008, at the Gloucester Guildhall, the second in a new series of events was held.
Flight Through Eternity brought together a group of guest [sic] and supporting actors from the first three eras of Doctor Who, for a unparalleled autograph opportunity.
With the help of the organisers, Myth Makers were there to capture the moment and meet this unique group of individuals.
This is the second of four special editions dedicated to this event and features interviews with:
SONNY CALDINEZ, SHIRLEY COOKLIN, PRENTIS HANCOCK and DAVID SPENSER.
Not to be missed...
SPECIAL FEATURES
Behind the Scenes footage.