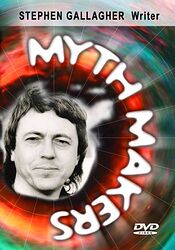 Cover blurb:
"WARRIOR'S GATE... As I recall, the proposal was just four paragraphs — one for each of the episodes."
STEPHEN GALLAGHER is (in his own words) "a novelist, screenwriter and director." He began his career writing for radio drama and was recommended to the DOCTOR WHO production team as a potential author. This resulted in his writing the Tom Baker story WARRIOR'S GATE and subsequently the Peter Davison story TERMINUS.
He has written fourteen novels (so far) including NIGHTMARE, THE BOAT HOUSE and THE SPIRIT BOX... his latest offering is THE KINGDOM OF BONES.
He has acted as screenwriter on two of his novels CHIMERA and OKTOBER — which he has also directed. Other TV credits include BUGS, MURDER ROOMS and as series creator on ELEVENTH HOUR.
MYTH MAKERS caught up with him at FantasyCon 2007, held in Nottingham, where we garnered a fascinating interview about his career.
SPECIAL FEATURES
Biography and Behind the Scenes.