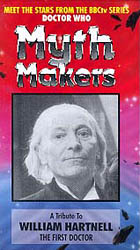 Edition:
UK (VHS)
Title:
Myth Makers: A Tribute to William Hartnell
Released:
June 1999

Publisher:
Reeltime Pictures
Format:
1 x VHS PAL
Owned:
Buy:
Cover blurb:
"He believed in the Doctor. He was the Doctor... and he made the character one that people loved." VERITY LAMBERT
As the very first Doctor, WILLIAM HARTNELL created the character that made DOCTOR WHO a success. No other actor made such a lasting contribution to the programme or influenced it so greatly.
In this special MYTH MAKERS, NICHOLAS BRIGGS meets WILLIAM's friends, colleagues and family to uncover the personality of this shy, complex and private man.
With contributions from WILLIAM RUSSELL, CAROLE ANN FORD, MAUREEN O'BRIEN, PETER PURVES, VERITY LAMBERT, MICHAEL CRAZE, ANNEKE WILLS, DONALD TOSH, CHRISTOPHER BARRY and a revealing interview with JACK PITT who was an extra in DOCTOR WHO and shared WILLIAM's flat in London.
Also featured is JESSICA CARNEY who has written a biography of her grandfather's life titled WHO'S THERE?
This is not just a MYTH MAKERS tribute, it's almost a chance to meet the man himself.