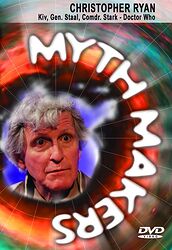 Note: An edited version of this interview was released as part of The Doctors: More Monsters!
Cover blurb:
Hosted by ROBERT DICK
"I was just given the script for Mindwarp ... I can't remember watching the previous programme."
CHRISTOPHER RYAN was born in London on the 28th of January 1950. He trained at the East 15 Acting School and began his career with The Glasgow Citizens Theatre in 1971.
CHRISTOPHER's first love is the stage and he has an extensive credit list for roles in theatres across the UK. It was while appearing in CAN'T PAY, WON'T PAY at the Criterion Theatre, that he landed the role of Mike in THE YOUNG ONES. This led to parts in BOTTOM, ABSOLUTELY FABULOUS, ONLY FOOLS AND HORSES, THE GREEN, GREEN GRASS, ONE FOOT IN THE GRAVE and many other television series.
But to DOCTOR WHO fans, it's his monstrous performances as KIV, GENERAL STAAL and COMMANDER STARK that he is best known for.
ROBERT DICK discusses this and much more in the latest MYTH MAKERS — in which an old friend makes a guest appearance!

SPECIAL FEATURES Biography & Bonus Feature