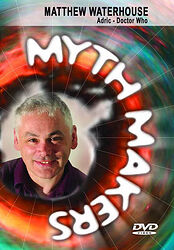 Note: Region 0 DVD. Official release date was May 1, but was first available via a signing event in Galaxy 4, Sheffield on April 22. Subsequently re-released as part of The Doctors: The Peter Davison Years.
Cover blurb:
"Going from CASTROVALVA, to FOUR TO DOOMSDAY, to KINDA... those stories were all very distinctive, all very different from each other... and all really effective in different ways."
MATTHEW WATERHOUSE is best known for playing the alien teenage mathematician ADRIC in two seasons of the original run of DOCTOR WHO, the youngest companion in the history of the series.
In the years since, he has continued to work extensively as an actor in the theatre and in the ongoing DOCTOR WHO and DARK SHADOWS audio plays by BIG FINISH. He is also the author of five books, including a bestseller about DOCTOR WHO and a well received collection of stories, SUGAR.
In this MYTH MAKERS, ROBERT DICK takes MATTHEW back to the locations used for the DOCTOR WHO story BLACK ORCHID and delves deep into this rich history, bringing out an evocative, candid and entertaining interview about working on "classic" DOCTOR WHO!
SPECIAL FEATURES
Biography & behind-the-scenes