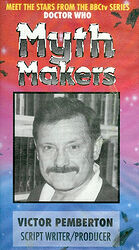 Edition:
UK (3rd VHS)
Released:
January 1996

Publisher:
Reeltime Pictures
Format:
1 x VHS PAL
Owned:
Buy:
Note: Extended edition.
Cover blurb:
"I think Paul McGann could be a very good Doctor, he wouldn't be my first choice, but nonetheless he's a very fine actor."
VICTOR PEMBERTON's association with DOCTOR WHO is long and varied. As extra, writer, script editor, producer and novelist, he is in a unique position to comment on the programme's successes and failures — and he's prepared to do just that!
VICTOR certainly wouldn't claim credit for writing the dramatic links in this MYTH MAKERS where he encounters a strange bewildered NICHOLAS BRIGGS and an even stranger source of a 'plopping noise'. In fact this is the culmination of the ultimate kitchen sink drama — just what is outside the window?
This MYTH MAKERS combines two interviews with VICTOR, the first shot at his country home in Essex and the latest at studios in London.