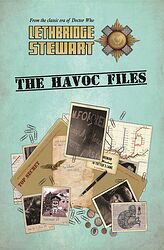 Note: A tie-in to the ongoing range of Lethbridge-Stewart novels, this is a collection of short stories featuring the Brigadier, previously only available as digital downloads (although one of the stories is brand new and exclusive to this volume). The original print run was limited to 300 copies and quickly sold out. It was reprinted in another limited run in July 2018.
Cover blurb:
The first half of 1969, was a busy time for Alistair Lethbridge-Stewart. Not only did he encounter the Great Intelligence more than once, and the Dominators and Quarks, he visited an alternative reality, and encountered ghosts on Fang Rock. But that was only the start!
Did you hear about his transfer from Libya? Or the mysterious Cult of the Grinning Man? What about the alien spheres at Christmas? Then perhaps the bunker under London?
If not, then this book is for you. A collection of short stories, previously only available as digital downloads. Includes a brand new, never-before-published, story that deals with the dating issue which plagued much of Lethbridge-Stewart's time in Doctor Who.
A collection of short stories from the classic era of Doctor Who, starring Colonel Lethbridge-Stewart, based on the characters and concepts created by Mervyn Haisman and Henry Lincoln.
Contents:
The Enfolded Time by Andy Frankham-Allen (brand new, print exclusive)
Ambush! by Andy Frankham-Allen
Legacies by Norma Ashley
One Cold Step by Andy Frankham-Allen
The Cult of the Grinning Man by Tom Dexter
The Dogs of War by Andy Frankham-Allen
The Fright Before Christmas by Tom Dexter