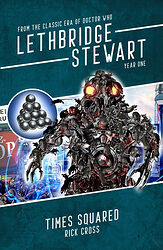 Edition:
UK (3rd paperback)
Released:
June 2021

Publisher:
Candy Jar Books
ISBN:
Unknown
Format:
paperback
Owned:
Buy:
Note: Limited edition of 200 copies, featuring a new cover design and an additional short story: Maker also by Rick Cross.
Cover blurb:
"The Brigadier is such an integral part of Doctor Who mythos, it seems right and proper he now has his own series."
Doctor Who Magazine
When Brigadier Lethbridge-Stewart, his fiancee Sally Wright and nephew Owain Vine embark on a much-needed holiday in New York City, the last thing they expect to find is a puzzling mystery involving coma patients, a stranger from a distant land and a dark menace lurking in the bowels of the city's labyrinthine subway system.
Before long, they're battling an ancient evil pursuing a deadly campaign of terror that could bring Manhattan under its control...
And the world to its knees!
Featuring a brand new short story by Rick Cross.

A Lethbridge-Stewart adventure featuring the Brigadier and Edward Travers from the classic era of Doctor Who. Based on characters created by Mervyn Haisman and Henry Lincoln.