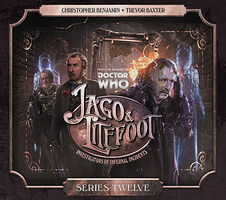 Cover blurb:
FOUR FULL-CAST ADVENTURES!
PICTURE THIS
An art gallery is robbed, something that might not seem of interest to Jago and Litefoot. But this is the fabled Scarlet Gallery — where the paintings are said to be haunted. And the curator has been drained of blood, as if killed by a vampire.
THE FLICKERMEN
Jago is rather scathing of the new art of cinematography. Even so, he accompanies Litefoot to see a demonstration at a fairground. But this is no ordinary film. Can creatures live inside the film — or even escape from it?
SCHOOL OF BLOOD
Jago and Litefoot investigate a girls' school. Due to a misunderstanding, Litefoot finds himself offered a job at the school, while Jago keeps watch on Ellie who they both think is behaving oddly.
WARM BLOOD
Jago, Litefoot and Ellie make their way to a house which could be the vampires' base of operations. Will they survive their encounter when the Old One has decided that they must die?