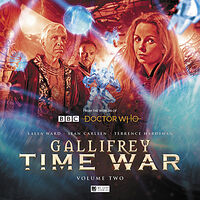 Cover blurb:
Rassilon has returned — summoned back from the dead, to lead his people through their greatest crisis.
But the Time Lords will reap what they have sown, and the consequences of this resurrection will determine Gallifrey's fate.
And in among the schemes and strategies of war, Romana and Narvin are losing friends and allies, as they become ever more isolated...
HAVOC by DAVID LLEWELLYN
PARTISANS by UNA McCORMACK
COLLATERAL by LISA McMULLIN
ASSASSINS by MATT FITTON