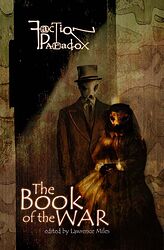 Edition:
US (hardback)
Released:
September 2002

Publisher:
Mad Norwegian Press
ISBN:
1-57032-907-9
Format:
hardback
Owned:
Buy:

| | | |
| --- | --- | --- |
| | | (Not currently available) |

| | | |
| --- | --- | --- |
| | | (Not currently available) |

| | | |
| --- | --- | --- |
| | | (Not currently available) |
Note: Limited edition of 300 copies, each signed by Faction Paradox creator Lawrence Miles and artist Jim Califiore. A further ultra-limited edition of 10 copies (known as the "full nine yards edition") was also published, being identical to this hardback edition, but with a custom illustration drawn on the flyleaf by Jim Califiore, featuring the purchaser's choice of Faction Paradox character.
Cover blurb:
No blurb on back cover. The following blurb is displayed on the inner cover flaps:

The Great Houses
Immovable. Implacable. Unchanging. Old enough to pass themselves off as immortal, arrogant enough to claim ultimate authority over the Spiral Politic.
The Enemy
Not so much an army as a hostile new kind of history. So ambitious it can re-write worlds, so complex that even calling it by its name seems to underestimate it.
Faction Paradox
Renegades, ritualiists, saboteurs and subterfugers, the criminal-cult to end all criminal-cults, happy to be caught in the crossfire and ready to take whatever's needed from the wreckage... assuming the other powers leave behind a universe that's habitable.
The War
A fifty-year-old dispute over the two most valuable territories in existence: "cause" and effect.
Marking the first five decades of the conflict, THE BOOK OF THE WAR is an A to Z of a self-contained continuum and a complete guide to the Spiral Politic, from the beginning of recordable time to the fall of humanity. Part story, part history and part puzzle-box, this is a chronicle of protocol and paranoia in a War where the historians win as many battles as the soldiers and the greatest victory of all is to hold on to your own past...

Lawrence Miles
Lawrence Miles was born in 1972. His earliest memory is of being terrified by a giraffe at London Zoo (he'd never really seen anything that big before), and it's entirely possible that his insistence on writing vast, oversized epics is a kind of subconscious revenge against an animal which must have died years ago anyway. This might sound fatuous but he genuinely means it. So far he's written seven novels and at least one good short story, and he's currently busy with the Faction Paradox comic book.