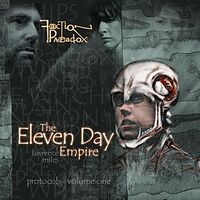 Description: Original audio drama featuring Doctor Who literary spinoff Faction Paradox. The script for this drama is available as part of Faction Paradox: Protocols - The Scripts Vol. 1.
Cover blurb:
PRIMER FOR THE SPIRAL POLITIC (POST-WAR EDITION)
1: FACTION PARADOX
Era: Non-specific
Technology: Post-linear (subtle), time-active
Even before the outbreak of the "War in Heaven", Faction Paradox was regarded as the most unpredictable (and opportunistic) of the time-active powers. Aware of the precarious nature of history — but under no obligation to protect it — while the other Great Houses were still attempting to uphold a "universal order", the Faction was following its own, far more ambiguous, protocols. Ruthless, secretive and at times difficult to understand, it's hardly surprising that the Faction should have eventually found itself under siege from its rival powers...