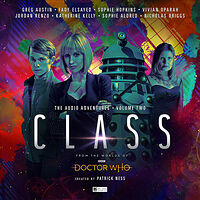 Note: Limited to 500 copies.
Cover blurb:
Three new adventures for the students of Coal Hill Academy, based on the television series created by Patrick Ness.
Everybody Loves Reagan by Tim Foley
When Reagan Harper joins Coal Hill Academy, everybody instantly loves her — everybody except for April. Is there really more to Reagan than meets the eye? Or are there other forces at work in Coal Hill?
Now You Know... by Tim Leng
Following a series of freak attacks on staff and pupils, Tanya and Matteusz find themselves investigating a mystery that dates back to the 1960s. Together, they hope to solve it — even if that means turning on one another to do so...
In Remembrance by Guy Adams
When an alarm is triggered at Coal Hill Academy, Quill and Charlie encounter a mysterious intruder prowling around school premises. Worse, they also encounter a Dalek. Their only hope of survival lies with the stranger: a woman who calls herself 'Ace'...