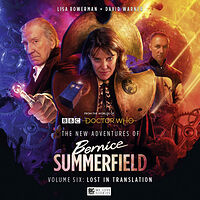 Cover blurb:
BERNICE SUMMERFIELD IS BACK IN FOUR NEW ADVENTURES WITH A TIME LORD FROM ANOTHER UNIVERSE.
HAVE I TOLD YOU LATELY? BY TIM FOLEY
Bernice and the Doctor find themselves lost in the dark with the only clue to their surroundings a mysterious voice.
THE UNDYING TRUTH BY JA PRENTICE
A mysterious mission has discovered a body, one that should never be found. Can the Undying really be dead after all?
INERTIA BY JAMES GOSS
A remote island on a dull world. Some boring natives, some uninteresting ruins. Can two time travellers manage to do nothing for a month?
GALLIFREY BY GUY ADAMS AND AK BENEDICT
The Doctor has come home. But he doesn't belong here. And Bernice thinks there's something very wrong with Gallifrey.