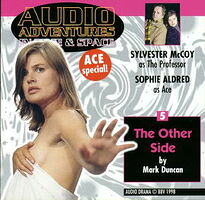 Cover blurb:
Ace is apparently killed and her dead Nan appears, to help her cross over to 'the other side'. Faced with her own internal demons, how long can she cling to life? And what is 'the other side'?
The Other Side is the second of two 'Ace Special' adventures which bring Sophie Aldred to the fore. Bill Baggs had been planning to feature Sophie's character alone and had commissioned BBV newcomer Mark Duncan to produce two adventures in which she would become separated from the Professor. When Sylvester McCoy (who makes guest appearances in these CDs) went on holiday, there was an ideal opportunity to produce these adventures.
The final track of this CD is a 10-minute edition of On CD, presented by director Bill Baggs in discussion with Sophie Aldred, editor Alistair Lock and Assistant Producer John Ainsworth.