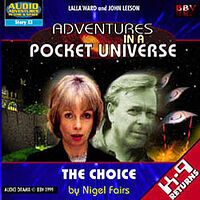 Description: Independently-produced spin-off audio drama featuring Romana (albeit only referred to as "Mistress") and K9. Later adapted into a novelisation.
Cover blurb:
After successfully opposing slavery in the pocket-universe of Ecto-Space, K9 and his Mistress are treated to a life of luxury as the revered guests of Emperor Lukor.
However, a life of decadence soon pales for the travellers and after making a hurried departure they discover a society of diseased cave dwellers, dominated by their unseen masters who they worship as gods.
Experience tells the Mistress and K9 that things are not all that they seem and, in a bid to unearth the truth, they place themselves in deadly peril...